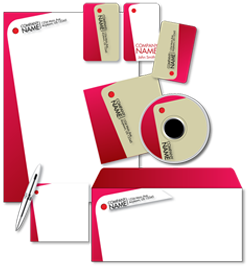 It's not a secret that first impressions are most important. Usually people pay attention to professionally designed business cards and attractive logos, colored envelopes and letterheads because they are always unique, appealing, charming and eye-catching. Professional corporate identity makes the business competitive and standing out. It is the most important feature the potential clients pay attention to. If your site appeals to the clients and impresses them very much they will surely return to your services and request or purchase your products.
The success of your company may become roaring and incredible thanks to the corporate identity images. You may start your business from presenting your unique corporate identity images, they will lead you to the ladder of success and it will be much easier to make your company well-known and presentable.
We work hand by hand with you taking into account all the details and requirements of yours. Besides, we use our broad experience, professionalism and knowledge to make you surprised seeing the result of your ideas and our efforts. So, you may be sure that you are different from other companies and you will be the first to attract potential clients to your business and products.
Leading Wave will help you get world-wide recognition and respect which will lead you to reaching personal goals. Contact us without hesitation and you will become sure that we are the right company for you and your business.