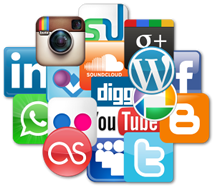 Your company can no longer afford not to take part in social media. Too many elements of business success online are now hinging on your performance on social media sites like Facebook, Twitter, Google+, and YouTube . These sites go beyond saying hello to an old friend or posting about the latest trends. Through the use of social media channels, businesses are able to attract and engage prospective clients. At the same time your business is able to continue to communicate your message and retain current customers.


If you have yet to start using social media in your business, these statistics may change your mind:
- One out of every seven minutes spent online is on Facebook
- Over 60% of LinkedIn members use it as their primary professional networking site
- 350 million tweets are sent out over Twitter daily
- Instagram users upload 300 million pictures to Facebook everyday
- 4 billion videos are viewed on YouTube each day

There is more than the sheer volume to take into account. Not all of these channels will work for every business. Galvin can build a strategy that takes into account your company's goals, product offerings, and more, to create the most effective use of your company's resources. Galvin can also educate your company in the best practices of social media or implement the strategy for you.
If you'd like to discuss how social media can help your company reach its goals, contact us and we'd be glad to help your company succeed.